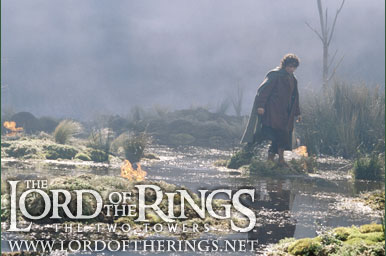 Dead Marshes: A vast, haunted fenland that lay between the Falls of Rauros and the mountains of Mordor. During the Third Age, the marsh had spread to cover part of the Dagorlad and many of the graves from the Battle of Dagorlad. The part of the marsh that has spread over the graves was then referred to as the Mere of Dead Faces.
For some evil reason the spirits of the dead could be seen lying just below the surface of the pools looking as though lighted by candles.
In TA 1944, an army of Wainriders defeated by Eärnil in the Battle of the Camp was driven into the Dead Marshes and perished.
In March of TA 3018, Frodo and Sam, guided by Gollum passed through the marsh and the Mere of Dead Faces on their quest during the War of The Ring.